English
Our corporate ethos is to value our customer's time and to maximize customer satisfaction.
Since its inception, our office specializes in corporate legal affairs, particularly in company reorganization and consulting. We offer a tailored, effective service to promote your business with a focus on maintaining customer satisfaction and a high standard service. Our legal specialists and English speaking staffs will assist you fully to achieve your purpose.
We provide a wide range of legal services to ensure that your business is successful Japan.
Incorporation procedures (Establishment of a company) and setting up a branch office.
Subsidiary companies are established through registration with the Legal Affairs Bureau, which tends to be a very complicated procedure under Japanese corporation law. We provide full support for all the procedures required for establishment, and prepare all legal documents and subsequent applications to the Legal Affairs Bureau. We also offer other additional services such as follow-up counseling, real estate registration of your office, and collecting funds (arranging loans).
Incorporation procedure
Consultation
We will listen to your ideas on how you would like to run your business, then we will give an detailed outline of incorporation procedure, and give advice prior to preparing an initial plan for the setup of your company.
Examination at the Legal Affairs Bureau of similar corporate names
It is not permissible to use the same company name at the same address. As a consequence of this, we will check your company names' suitability.
Create the official company seal
The company seal, along with the certain company information must be registered with the Legal Affairs Bureau when applying for establishment registration.
Making the Articles incorporation (Teikan)
This is the most important document which determines how your company will be managed. This article is expected to be highly detailed and documents fully how your company will be formed, and established.
Notarization of the articles
Notarization fee : ¥50,000
Revenue stamps : ¥40,000 (Our service can save you whole revenue stamp fees)
Transfer of investments to bank account
Since a non-registered corporation cannot have a bank account, it is necessary to transfer funds to an individual bank account.
Prepare the documents for incorporation procedure
We will prepare all the documents required for incorporation procedure and assist with the applying for governmental permission required for registration in certain cases.
Apply for registration
We will apply to the Legal Affairs Bureau on your behalf.
Fees
Total : ¥350,000~

Nationalization fees for the articles of an association
Registration tax
Fees for our office
Other additional services on demand
*The notifications to Bank of Japan and other governing agencies may be required in certain occasions such as inward direct investments. We assist you with all the complicated necessary procedures.
M&A
The M&A process can be long and very complicated, which means that there is a high risk of incurring heavy losses and thus failure. We support corporations not only with registration procedure including the format conversation and documentary arrangement but also consultation and drawing out a scheme to optimize your performance.
Closing support service by Hoshino Legal Firm
Though escrow and closing processes a very common practice in real estate transaction, M&A closing is carry out without the presence of a Shiho-Shoshi despite the significant investment transfer. Where the registration at the Legal Affairs Bureau is conditional for entry of date into force of M&A, we can secure the safe delivery for both sellers and buyers regulation procedure
Merits
The seller can secure the payments and deliver simultaneously
The buyer can receive all the documents on receipt and we will deliver the regulation to the Legal Affairs Bureau all together.
M&A agents can concentrate on M&A services using our documentary arrangements and issue share certificate service.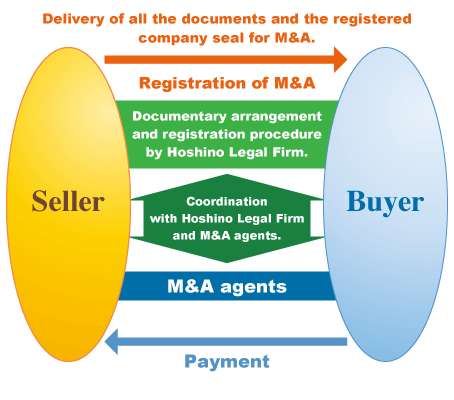 Contingent Fee System Debt Collection from Japanese Customers
Debt Collection from Japanese Customers.
In Japan, only lawyers, Shiho-Shoshi and certified agencies (so-called servicers) pursues payments on debts owed by individuals or businesses, while on the other hand collection agencies are very common business in other countries. Servicers are reluctant to take on small debt collection due to the very strict legal restrictions imposed by the supervisory public agency and Financial Services Agency, and lawyers rarely handle the cases of less than ¥2,000,000.
Our service is based on a contingent fee system and will undertake debts collection from ¥1,000~¥1,400,000 on behalf of your company. We have a high successful collection rate and effectively pursue and manage your debts payments using original management software. Please contact us at any time for further details regarding this.
Contingent Fee System (tax excluded)
*Fees are based on actual collection
Actual collection
Example
(Actual collection)
Total
¥1~¥10,000
45.00%
¥10,000
¥4,500
¥4,500
45.00%
¥10,001~¥100,000
40.00%
¥100,000
¥36,000
¥40,500
40.50%
¥100,001~¥500,000
35.00%
¥500,000
¥140,000
¥180,500
36.10%
¥500,001~¥1,000,000
32.00%
¥1,000,000
¥160,000
¥340,500
34.05%
¥1,000,001~¥1,400,000
30.00%
¥1,400,000
¥120,000
¥460,500
32.89%
Retaining Fees (tax excluded)
*Retaining fees includes postage, and communication expense
Debts
Example
Total
¥4,001~¥10,000
5.00%
¥10,000
¥500
¥500
5.00%
¥10,001~¥100,000
4.00%
¥100,000
¥3,600
¥4,100
4.10%
¥100,001~¥500,000
3.00%
¥500,000
¥12,000
¥16,100
3.22%
¥500,001~¥1,000,000
2.00%
¥1,000,000
¥10,000
¥26,100
2.61%
¥1,000,001~¥1,400,000
1.00%
¥1,400,000
¥4,000
¥30,100
2.15%
*200 single-price offer for a debt less than ¥4,000
Total Example (tax excluded)
Debts = Actual collection
¥1~¥10,000
¥5,000
50.00%
¥10,001~¥100,000
¥44,600
44.60%
¥100,001~¥500,000
¥196,600
39.32%
¥500,001~¥1,000,000
¥366,600
36.66%
¥1,000,001~¥1,400,000
¥490,600
35.04%
Note 1 :This service might not be available for some debts in dispute such as malpractice and defective products
Note 2 :Retaining fees and actual cost cannot be refunded irrespective of the result of the collection
Note 3 :All the fees are excluding other legal actions.
Debt Collection procedure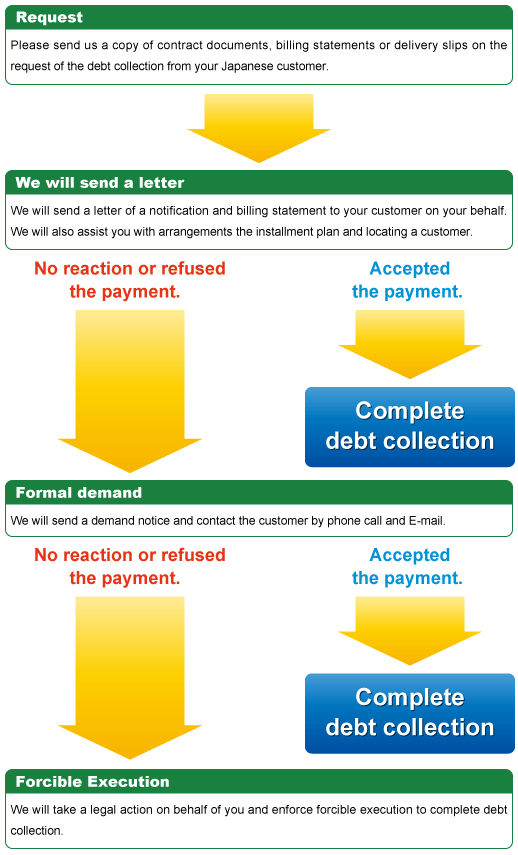 Information
| | |
| --- | --- |
| Office name | Shiho-Shoshi / Gyosei-shoshi Hoshino Fumihito Legal Firm |
| Address | 7th Floor, SK Building, Ginza 1-22-9, Chuo-ku, Tokyo |
| Phone | 03-6228-6900 |
| Fax | 03-6228-6564 |
| URL | https://www.shoshi.jp/ |
| E-mail | |
Managing Director
Fumihito Hoshino (Shiho-Shoshi and Gyosei-Shoshi Lawyer)
History:
| | |
| --- | --- |
| 1985/3 | Graduated Meiji University (Commerce) |
| 1998/9 | Hoshino Fumihito Shiho-Shoshi office was newly registered in Tokyo Bunkyo-ku Yushima, focusing corporate legal advice. |
| 2006/5 | Moved the office to Tokyo Chuo-ku Nihonbashi for business expansion. |
| 2008/2 | Changed the name to "Shiho-Shoshi / Gyosei-Shoshi Hoshino Legal Firm" and moved the office to Tokyo Chuo-ku Ginza for business expansion |
| 2010/11 | Moved the office to Tokyo Chiyoda-ku, Kojimachi |
Membership of professional institutions
Japan Federation of Shiho-Shoshi Lawyer's Associations
Japan Federation of Gyosei-Shoshi Lawyer's Assosiations
Tokyo Shiho-Shosi Lawyer's Associations (Central Branch)
Tokyo Gyosei-Shosi Lawyer's Associations (Central Branch)
NAC21 (New Account Club 21)
BAC (Business Account Club)
JPBM (Japan General Incorporated Association of Professionals for Medium and Small Sized Business Management Ltd.)
Contact us
Please contact us. E-mail: fumihito@alto.ocn.ne.jp
Access
Shintomicho St (Subway Yurakucho Line) #2 Exit : 2 min walk
Ginza-itchome St (Subway Yurakucho Line) #10 Exit : 5 min walk
Higashiginza St (Subway Hibiya Line / Asakusa Line)
A7 Exit : 4 min walk, #5, #3 Exit : 5 min walk
Takaracho St (Asakusa Line) A1 Exit : 4 min walk
Ginza St (Subway Ginza Line) A13 Exit : 8 min walk